Green and Serene Lalbagh Botanical Gardens, Bengaluru, Karnataka, India
A recent visit to Bangalore gave me a chance to explore some of the city's most memorable landmarks and popular tourist attractions including the 'Bangalore Palace' and 'Lalbagh Botanical Gardens'.
I was happy to note that both destinations surpassed my expectations and left me with fond memories.
Before I share my review of Lal Bagh, here's a little about Bangalore and my first impression of the city.
The City of Bengaluru – From the Eyes of a First-Time Visitor
Bangalore, officially known as 'Bengaluru' is the capital of the South Indian state of Karnataka. Commonly referred to as the 'Garden City of India', 'IT Capital of India,' and the 'Silicon Valley of India', Bengaluru is the third-most populous Indian city.
The official language of Bengaluru is Kannada but most people understand English, Hindi, and Tamil – hence, conversing with the locals isn't a problem.
The moment I touched down at Bengaluru Airport, the 'Kempegowda International Airport', I was impressed by a number of things.

The airport had a pleasant feel, the restrooms were squeaky clean, and the cleaning staff was alert. The UBER pick-up point was opposite the parking lot and was relatively easy to find.
As I made my way from the airport to the hotel, the view outside was filled with shades of green and dotted with reds, pinks, and oranges from the beautiful flowers all around.
ALSO READ: Tourist Attractions in Jodhpur City – Sights, Sounds & Shopping, Jodhpur Rajasthan
Lalbagh Botanical Gardens, Bengaluru – The Red Gardens
Counted amongst some of the Best Gardens in the world, Lal Bagh Botanical Gardens is a horticultural marvel, currently under the aegis of the Directorate of Horticulture, Government of Karnataka with several attractions for the discerning traveller.
Lalbagh Botanical Garden Bangalore, Address –
Lalbagh Road, Wilson Garden, Near BMTC Office, Bengaluru, Karnataka 560004, India.
Spread across 240 acres, it is a haven for nature lovers with plenty to explore and lots to admire including a state-of-the-art watering system that keeps alive a fascinating collection of more than 1000 species of tropical plants and trees – the largest in India.
Every day, hundreds of tourists, as well as resident Bangaloreans, visit the Lal Bagh Botanical Gardens to enjoy views of the serene lake, take long strolls around the gardens, and to spend time with friends and family in the lap of nature.
At the entrance, you will find this detailed map that shows the location of all the different tourist spots you can expect to find inside Lalbagh.
A Bird's Eye View of Lal Bagh, Bangalore
From the moment you enter Lal Bagh, you will be greeted by the tweets and chirps from the varied bird species found here including Parakeets, Crows, Pond Heron, Myna, and Purple Moor Hen, among others.
DID YOU KNOW? Many trees at Lal Bagh date back to more than 100 years, so you can expect to be wowed by the century-old history that's been kept alive at this gorgeous green paradise.
What's more, the plants and trees here are so well identified and labelled that you can understand their rich history and gain a lot of knowledge about these towering beauties as you walk past them.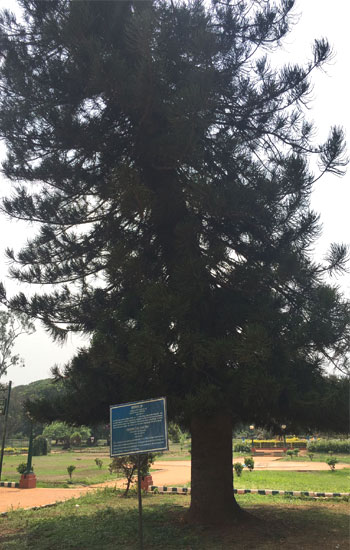 Here's what the blue board said about this beautiful Tree –
Christmas Tree / Cook Pine
Botanical Name: Araucaria cookii
Family: Araucariaceae
Origin: Australia
This is a tall evergreen tree, grows up to the height of 60 – 70 mts. This tree is grown in parks, Botanical Gardens, and church premises for its attractive look. It is a special tree for the Christian community who use the tree during Christmas as a center of attraction.

This tree was planted on 21-2-1961 by her majesty Queen of England Elizabeth II in memory of her visit to Lalbagh.
A GLIMPSE INTO THE PAST
In 1760, the ruler of Mysore, Hyder Ali commissioned the building of Lal Bagh Gardens which was later completed by his son, the great warrior, Tipu Sultan. It was Tipu Sultan who imported several rare plants from countries like Persia and encouraged their plantation at these gardens.
In 1856, Lalbagh received the official status of a Government Botanical Garden, and ever since then, these gardens have gained international acclaim as a centre for botanical research as well as conservation of plant life.
IMPORTANT FACTS YOU SHOULD KNOW BEFORE VISITING LAL BAGH
The gates at Lalbagh open from 6:00 am till 7:00 pm every day.
The Lalbagh Botanical Garden entry fee is INR 20 per visitor above the age of 12 but the entry for walkers is free between 6 am and 9 am as well as between 6 pm and 7 pm.
Pay a fee of INR 50, and you are free to carry your camera and click pictures to your heart's content.
If you want to explore these gardens in their entirety, you'll need the whole morning and afternoon or a minimum of at least 2 to 3 hours.
TIP: If you're visiting Lalbagh during the peak summer months, I would suggest you visit the Gardens either early morning or during the evening when the sun is not overhead.
Though it was relatively easy to reach Lalbagh, I did have some trouble finding a cab on my way out. The autos at the gate were no good either.
So remember to book a cab well in advance before you actually exit the gardens.
BEST 6 ATTRACTIONS AT THE LAL BAGH, BANGALORE
Inside the Lalbagh Botanical Gardens, there are 18 tourist spots to discover.
These include the Floral Clock, Maharaja Statue, Aquarium, Band Stand, Rose Garden, Lake, Watch Tower, Silk Cotton Tree, Tree Fossil, Lotus Pond, Glass House, Dove Cot, Farm Information Unit, Bonsai Garden, Kempe Gowda Tower, Topiary Garden, Japanese Garden, and Directorate.
Let's take a look at the top 6 attractions here –
THE FLORAL CLOCK
Lalbagh is home to an attractive Flower Clock that has been installed by HMT watch company. Measuring 7 meters in diameter, the functional clock dial is beautifully decorated with myriad colourful flowers.
The figurines of 'Snow White and The Seven Dwarfs' installed around the surrounding gardens is another attraction, especially for kids.
LAL BAGH LAKE
If you love water bodies, you must take time out to visit the Lal Bagh Lake that is located at the southern end of the Gardens. Special attractions here include the walkway bridge and the two small ponds at the north (Lotus Pond) and west corners.
ROSE GARDEN
'Lal Bagh' literally means 'Red Garden' – a name it inherits from the gorgeous red roses that can be found here during the peak season.
Each year, in January (Republic Day) and August (Independence Day), a Flower Show is hosted inside the Glass House by the Department of Horticulture and Mysore Horticulture Society, attracting visitors and flower enthusiasts from all over the country.
Since I was in Bangalore in April, I missed out on the roses.
PENINSULAR GNEISS ROCK (LALBAGH ROCK)
Popularly called the Lalbagh Rock, this is one of the oldest existing rock formations in the world and dates back to 3,000 million years! No wonder, this one's a huge crowd puller at the Lal Bagh.
A plaque at the site declares it as a 'National Geological Monument'.
BAND STAND
The Band Stand at Lal Bagh was established way back in 1870, and it is here that the Army band played. Earlier, it was also used as the location for hosting flower shows.
TREE FOSSIL
The stunning tree fossil of petrified Coniferous Tree is a collection from the National Fossil Park, Tiruvakkarai, South Arcot, Tamil Nadu. It is believed that this Tree Fossil dates back to 20 million years.
Though pressed for time, being a nature lover, I couldn't resist stopping for a couple of minutes to admire this beautiful garden entrance, laden with green creepers and dotted with the most gorgeous flowers.
It instantly reminded me of one of my favourite poems, 'Leisure' by William Henry Davies.
'What is this life if, full of care,
We have no time to stand and stare.'
I definitely made time to stop, stare and pose! 🙂
Closing Thoughts
Whether you're a Botany student, a nature lover or just an inquisitive traveller, Lal Bagh Botanical Gardens should most definitely be on your must-visit list, next time you're in Bengaluru.
For me, Lal Bagh's rich history, its treasured flora and its well-planned and well-maintained interiors truly stood out. I would have liked to spend a lot more time here but like they say, there's always a next time!
Have you been to Lalbagh? Tell me about your experience in your comments below.